Here is another good one from Puerto Banus! I was sitting at one of the shoreside cafés with a glass of bubbly and enjoing a good view to the marina and the neighboring Häegen-Dazs ice cream bar (both known to be good places to spot chixs :)).
Mona was there talking to some friends and her outfit immediately caught my attention. I spent a while guessing which yacht she disembarked from as I really appreciated her style – we got to give it to her – she really looks like she belongs on one of those 10 million dollar yachts!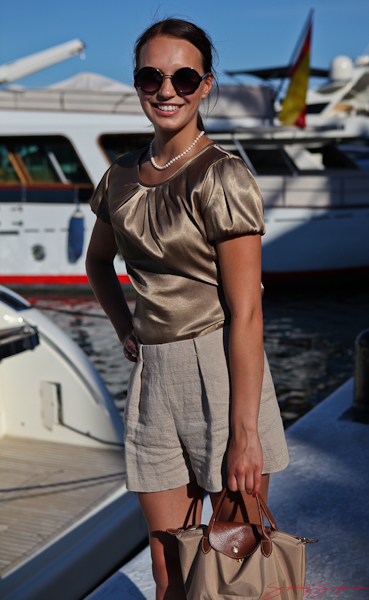 The golden silk blouse goes very well with the beige linen shorts and her matching shoes. I'm known to like earthy colors and gold is a winner with various shades of brown. Also, silk provides for a slightly more festive touch without being to bling.
Now what comes to the accessories, generally circular shades are very tough to master, but Mona succeeds well. She has a defined jawline and a straight simile, (both being things that go well with round glasses), and then she matches the shades with the roundness of the pearls. As can be seen here, another shape or a low-hanging necklace would not work with this outfit at all.
Now to the best part: she told me that the blouse was from Mango and the shorts from Zara. While both are Spanish brands and not available everywhere, I'm quite sure you can get something quite similar from H&M or Nelly if you like. For a bargain, here's a tip I recently heard about, good coupon codes for them can be found here.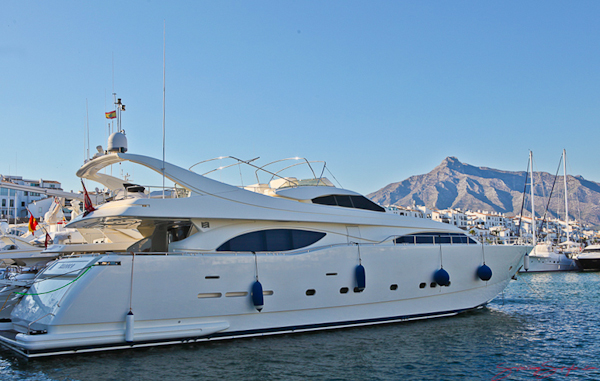 More goodies from Marbella to follow, ship ahoy!