For all of you Paris lovers, let me offer you a couple of  nice exploration, shopping and dining suggestions for that REAL Paris feeling

Obviously you'll need to see the must haves to get in the mood: Eiffel tower, Louvre, Notre Dame, Champs-Elysées, Basilique du Sacré-Coeur, Quartier Latin et.c., but that's not all. There is about a million more of those famous places so remember you don't need to visit all at once. Leave something for next time to give you a reason to come back soon :).  During your current visit, maybe you could be bold enough to walk into a nice small hotel and make a reservation for your next trip already!? For example, why don't you book a room at Hotel Chaplain Rive Gauche. I have stayed there many times and it is truly one of Paris' best small hotels. If you don't believe me, check them out on Tripadvisor for instance!
Remember also to take it easy and make breaks to grap some cappuccino and something to bite, or maybe a glass of white wine with some cheese; perhaps a typical french Madame Croque, Omelette du fromage et jambon or Nutella crêpes from a streetside kiosk.
Now as to the shopping, Galeries Lafayette and Printemps are those famous department stores, and if you are looking for the H&M, Zara, Mango stores, yes, they can be found closeby on Boulevard Haussman in the 8th Arrondisement. If you have good apetite like me you'll get hungry while shopping so go ahead and try a lovely yam pizza at Cordial Cafe on Boulevard Houseman! That's where I found fabulous Zohra in the pic :). I just love her very Parisian style. She had specifically chosen this hat for her Paris visit. Very chic!
Luckily, I have received some really nice tips from the lovely ladies that I have had the pleasure to meet in Paris:
- When visiting Sacré-Coeur (climbing up all those hundreds of steps, or taking the train..) remember to check out Place du Tertre. There you can find all these lovely Paris painters selling their artwork.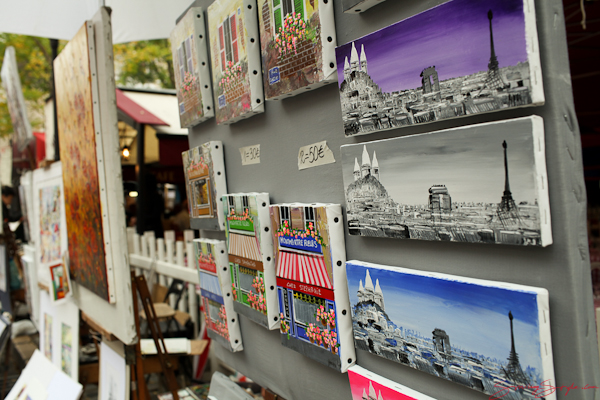 - For a nice shopping area with that bohemian feel, head north of Notre Dame to Le Marais in the 3rd arrondisement. Look for the green signage on Rue des Rosiers for the best fallafels in town!
-Saint Germain the Pres is a famous and crowded area, so stop by the smaller streets around Rue de Buci.
- Check out Rue Montorgueil in the 2nd Arrondisement with small charming shops, boutiques, restaurants and fresh food. The nearest Metro station is Etienne Marcel.
- There are so many lovely restaurants in Paris. We were told that there are more than 3000 of them in Paris, so I don't stress about finding the right one – you can't!  Just walk into the closest one and ask them to fill your table. You'll have a feast!