I was sitting at Café Central in Malaga the other day having just ordered my tapas and Paella when I spotted Sofia walking through Plaza de la Constitución. It was literary an OMG!! moment and I flew into the street skipping over tables like Jackie Chan!
I mean, take a look at this outfit; absolutely perfect, just immaculate. I cannot get enough of the skirt, its embroidery, the hem and the perfect length! And like that would be all, no, to top it off are her super espadrilles and the elegant but toned-down top and accessories.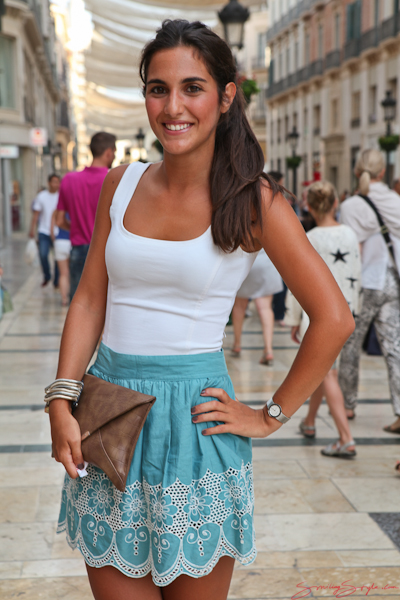 There are such excellent fashion cues here, too. The skirt is like a jewel, hence it is good to keep the accessories to a minimum. But, by the same token, the lower torso will be getting more attention so it is wise to invest some time in choosing a type (not only color) of shoes that work well with the outfit. By the way, where is my gym card I think to myself looking at Sofia's perfectly toned legs…;))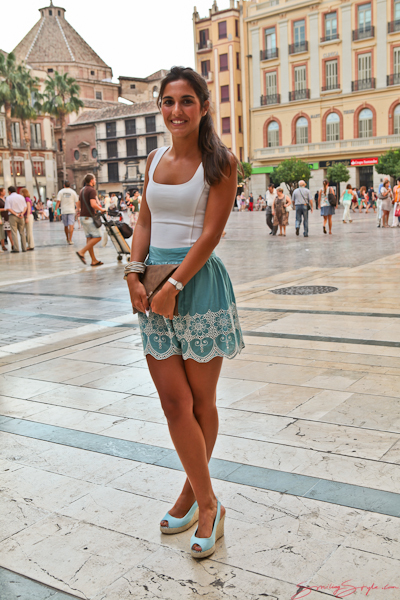 You will also note that Sofia's shoes are of a notch lighter hue than the skirt.  This is a very good trick as it makes the shoe look "lighter", and it adds an effortless flair to the outfit.  If you pick exactly the same colors you run risk of looking overly coordinated.
All in all very very well done, bellisima!!