The other day I was over to Prague in the Czech Republic to do some stuff. I had been hoping I could squeeze in some shots with the beautiful old town streets and houses as backdrops, but it had been raining most of the time.
Now, if you've seen some of the other posts here, here and here you know that I'm very excited about colors and textures, and a completely into their combinations. With that in mind I was understandably very happy bumping into Simbi on Cihelná street close to the Franz Kafka museum in Prague.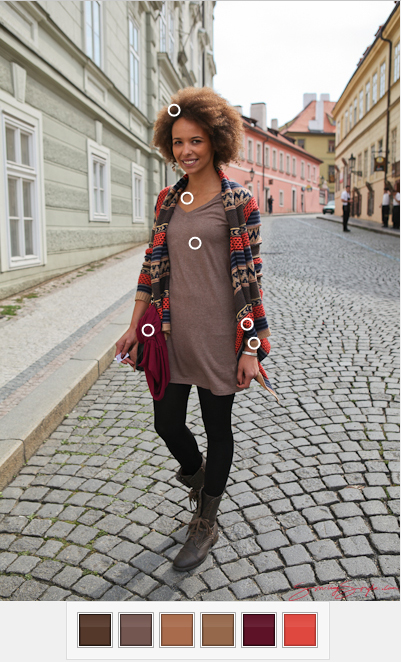 Originally her lovely hair got my attention, but as I walked closer the texture and pattern of her tunic really made in impact.  It looked really great without being at all too busy. Also, the plain brown top looks super with this statement tunic.
They are all great, but even greater is the style and color combo of her entire outfit. Just have a look at the shades picked from her outfit, the dark red scarf, and the shade and style of her handbag.  It is equally important to pick the right colors as it is to choose clothes and accessories that go with each other.  The handbag is just such an excellent detail to this outfit!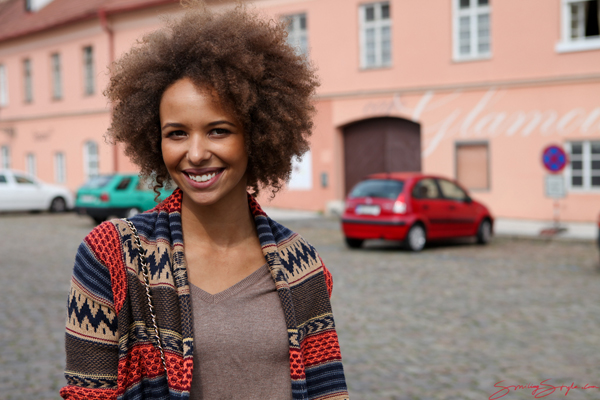 Way to go Simbi!