I've had a lot of earth colors on the blog lately, but just had to post this lovely lady as well! I bumped into her in Le Marais, but she told me she is actually from Los Angeles.
I love the hat, the thin rope ribbons, the coat and the leather bag, not to forget the smile of course. Also, I think the color of her hair is absolutely gorgeous, and works so well for her. I picked out the palette for you below, very beautiful colors, or what do you think?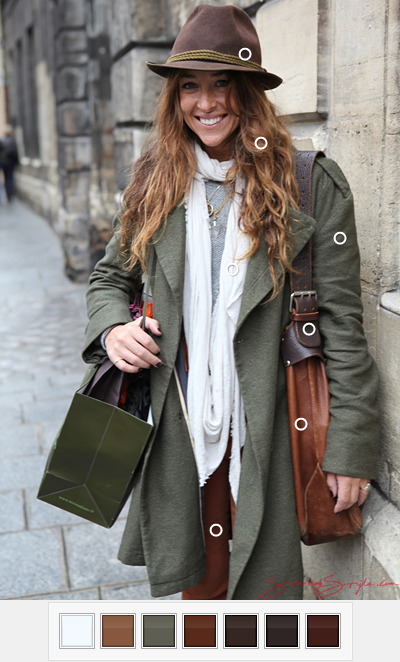 On a related note, if you are an animal lover and like to read, here's an absolutely fabulous book for you: "Pink Boots and a Machete. My Journey From NFL Cheerleader to National Geographic Explorer" It's written by the real female Indiana Jones of our time, Mireya Mayor.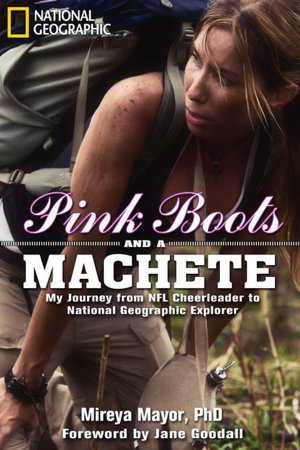 For those not familiar with Mireya, she is a Fulbright scholar with a Ph.D. in anthropology, a National Science Foundation Fellow, and the first female National Geographic Explorer. She is a wildlife expert and conservationist travelling some of the most remote and dangerous places in the world for her work and research. When not deep in the jungle or on assignment, Mireya lives in Miami with her husband Roland, and their two young daughters, Emma and Ava. (*
It is a wonderful read, and she has been praised for her excellent storytelling. For some of the rave reviews, look it up on Amazon, or some other blogs here:
http://www.amazon.com/Pink-Boots-Machete-Cheerleader-Geographic/dp/1426207212
http://skullsinthestars.com/2011/12/09/mireya-mayors-pink-boots-and-a-machete/
http://wwwbookbabe.blogspot.com/2011/03/pink-boots-and-machete-my-journey-from.html
Mireya's homepage: http://mireyamayor.com/.
*Citations and book cover picture from the above websites.