Especially now that winter is coming we may need to wear layers. Doing that without looking stuffed is one of the great outfit mysteries.  The lady in the picture, however, shows us how to do it.  Choosing "light" colors for the layered part of the outfit creates a smooth look.  Wearing a darker color in the un-layered part helps balance the outfit. Also, the clothes need to be quite fitted as bulky layers just don't work in most cases.
Note how skillfully she has chosen a slightly smallish jacket, and avoided a too small look by using another layer and accessories to elongate the sleeves.  The scarf is quite voluminous, but looks good thanks to its light base color and loosely spaced print.  Also, it is there to keep her warm as the jacket needs to be left unzipped in this look.
An excellent example of layering, color and accessory matching, and overall!!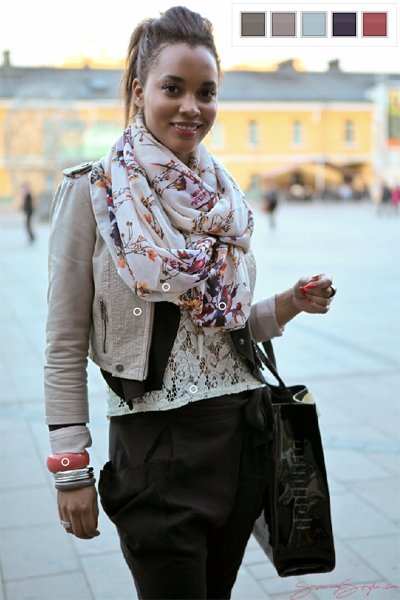 Or what do you think?