The Canadian National Exhibition (CNE) dates back to 1879 and is Canada's largest community event. It takes place in Toronto every September and basically boils down to a massive amusement fair, exhibitions and various crowd-pleasing events over a period of two weeks.
It draws a huge crowd, and is an excellent backdrop for some serious streetstyle photoshoots. This time I was on the lookout for ladies who had put together a superb overall combo. I'll post a few pics over the coming weeks and I'm starting here with Jaime's. Her outfit is an excellent example. You could find her pic under "streetstyle" in a Parsons textbook :).
First of all, the leather pants have an excellent feminine fit while still being classy. With high waist pants you need a cropped shirt, and I couldn't have figured out a better match than the girl-cut football jersey. But now to the details; the skinny purse strap goes so well with the thin stripes on her sleeves, and the rivets on the purse give just a bit of punk flair sitting next to the leather pants. An all-silver jewelry combo consisting of a small necklace, a light cuff on one arm and a thin chain worn high on the other is just right.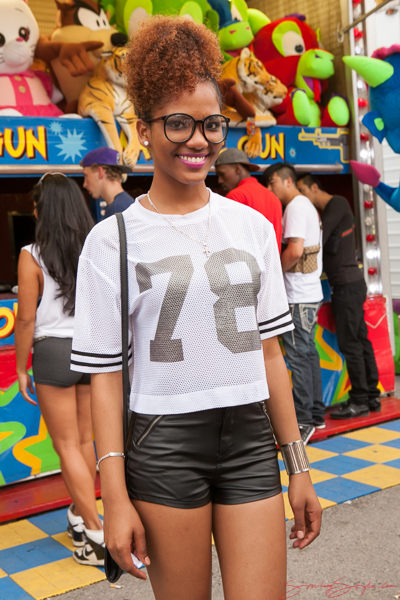 Finally, one excellently chosen pop of color – the lipstick – to add a feminine touch while maintaining the monochromatic tone of the clothes.
It's hard to say if she spent an hour meticulously choosing all the details or if it comes naturally. Either way, this is an outfit that really works for Jaime!