Whoa, it was a scorching hot day in Vegas, and so was her outfit!

 I met this lovely lady on the Strip in front of Planet Hollywood hotel. There were many tourists there in their dull shorts and Crocs shoes so her outfit immediately caught my attention. I just love the symmetry of the ensemble; the brooch in her headband matches the knot she tied in her shirt, and the headband and shirt match the scarf at her hips. Both shirt and scarf are tied of course. If you look closely you'll also note that all her jewelry is similar.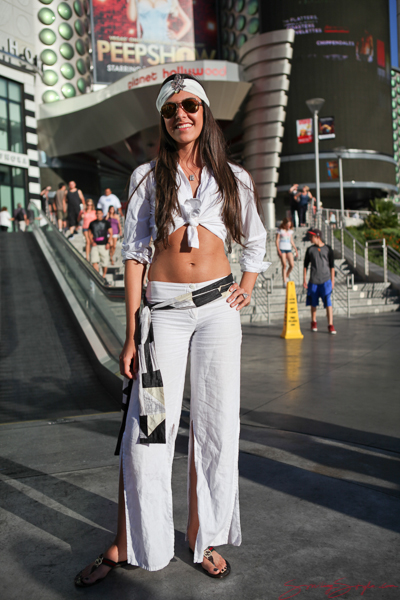 Her outfit is also a good example of balancing two ends; if you are wearing a small crop top, be sure to cover both shoulders and legs for a that classy look. Feel free to leave the $5 flip flops at home and slip into a pair of quality sandals (hers are Gucci) so you won't be mistaken as coming from the beach :).
Her looks made me want to head straight for the gym so obviously I complimented her on her toned physique. You should have seen the smirk on her face when she told me she is a dancer and saw me mentally going through the different dancer professions in Vegas…